About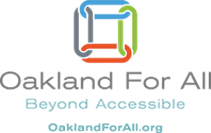 Oakland For All (OA) is seeking nominations for one individual and one Oakland business to be recognized for their positive contributions to and/or impact on the Oakland disability community at the 2023 Oakland Ramp Crawl on August 25, 2023. Nominations are due by August 4, 2023.
Oakland for All Beyond Accessibility was established in 2013 to advocate for a more a accessibility-friendly business district. OA wanted to recognize a business in the Oakland business district that made their businesses accessible to individuals with a disability. Last year members decided to recognize an Advocate for people with disabilities.
Criteria
The nominee should preferably be a person who has a disability (visible or invisible) who:
Has advocated for persons with disabilities living, working, or studying in Oakland,
Is employed by a facility, institution, or program in Oakland which benefits people with disabilities.
OR
Someone without a disability who has labored for the health and welfare of people with disabilities in Oakland.
Advocate of the Year Qualifications
How many years has the individual been an advocate?
What was the advocacy effort?   What role did the individual have in the advocacy effort? (Planner, Administrator, Advocate, Publicity, other)
Will the advocacy continue?  If so, how?  If no, why?
Was the advocacy effort cross-disabilities in planning and participation?
What other advocacy efforts has the person participated in?
Business of the Year Qualifications
What is the business?
What type of accommodations were instituted?
Why did the business make these accommodations?   
Do members of the disabilities community and their allies and support frequent this establishment? 
What do members of the disabilities community and their allies and support say in regard to this establishment?  Do they feel welcome? Supported?
How to Submit Nominations
Please submit nominations to John Tague at jtaguejr@aol.com by Friday, August 4, 2023 no later than 5 PM.
If you have questions or concerns, please contact John Tague at jtaguejr@aol.com or 412-952-5402.