About our Supporters program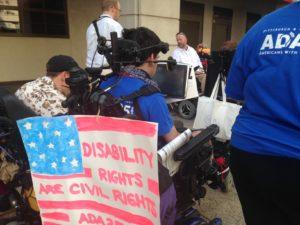 Join us as an Individual, Nonprofit, or Corporate Supporter to be a part of our mission to preserve and honor the historic struggle of Western Pennsylvanians with disabilities to attain human and civil rights!
Your tax deductible gift to the Consortium helps to cover costs for the following activities:
Source and update our collections with new stories, documents, photos, and other materials.
Coordinate physical artifacts and materials archival processing with Heinz History Center.
Process donations of collections given to us by individuals, families, and organizations.
Conduct other preservation activities.
Generate and share new content and materials on our website and other digital channels.
Conduct outreach and advocacy to promote disability rights and to improve community access, participation, and equal opportunity.
Visit the sections below to view Supporter levels and benefits:
For Individuals
---
Individual Supporter
$50/year
Recognition as a supporter in our annual report
Post disability-related events to our Community Calendar (the events must be free to attend)
Submit disability-related headlines and links for the Other Disability News section of our e-newsletter
---
For Nonprofits
Choose one of the four Supporter levels below:
---
Nonprofit Supporter
$500/year
Recognition as a supporter in our annual report
Post disability-related events to our Community Calendar (the events must be free to attend)
Submit disability-related headlines and links for the Other Disability News section of our email newsletter
Ability to request disability history speakers from our Speakers Bureau for no cost
Organization name and link on Supporters page of WPDHAC website
---
Nonprofit Advocate
$1,000/year
Recognition as a supporter in our annual report
Post disability-related events to our Community Calendar (the events must be free to attend)
Submit disability-related headlines and links for the Other Disability News section of our email newsletter
Ability to request disability history speakers from our Speakers Bureau for no cost
Organization logo and link on Supporters page of WPDHAC website
Recognition on our Facebook page (1 mention)
---
Nonprofit Patron
$2,000/year
Recognition as a supporter in our annual report
Post disability-related events to our Community Calendar (the events must be free to attend)
Submit disability-related headlines and links for the Other Disability News section of our email newsletter
Ability to request disability history speakers from our Speakers Bureau for no cost
Organization logo and link on Home page of WPDHAC website
Organization logo and link on Supporters page of WPDHAC website
Recognition on our Facebook page (3 mentions)
Sponsored ad in our e-newsletter (1 per year)
Recognition on signage at WPDHAC in person events
Recognition on slide deck at WPDHAC virtual events
---
Nonprofit Ambassador
$4,000/year
Recognition as a supporter in our annual report
Post disability-related events to our Community Calendar (the events must be free to attend)
Submit disability-related headlines and links for the Other Disability News section of our email newsletter
Ability to request disability history speakers from our Speakers Bureau for no cost
Organization logo and link on Home page of WPDHAC website
Organization logo and link on Supporters page of WPDHAC website
Recognition on our Facebook page (5 mentions)
Sponsored ad in our e-newsletter (2 per year)
Recognition on signage at WPDHAC in person events
Recognition on slide deck at WPDHAC virtual events
Invitation to introduce a speaker at a WPDHAC event
---
For Corporations
Choose one of the four Supporter levels below:
---
Corporate Supporter
$750/year
Recognition as a supporter in our annual report
Post disability-related events to our Community Calendar (the events must be free to attend)
Submit disability-related headlines and links for the Other Disability News section of our email newsletter
Ability to request disability history speakers from our Speakers Bureau for no cost
Organization name and link on Supporters page of WPDHAC website
---
Corporate Advocate
$1,250/year
Recognition as a supporter in our annual report
Post disability-related events to our Community Calendar (the events must be free to attend)
Submit disability-related headlines and links for the Other Disability News section of our email newsletter
Ability to request disability history speakers from our Speakers Bureau for no cost
Organization logo and link on Supporters page of WPDHAC website
Recognition on our Facebook page (1 mention)
---
Corporate Patron
$2,500/year
Recognition as a supporter in our annual report
Post disability-related events to our Community Calendar (the events must be free to attend)
Submit disability-related headlines and links for the Other Disability News section of our email newsletter
Ability to request disability history speakers from our Speakers Bureau for no cost
Organization logo and link on Home page of WPDHAC website
Organization logo and link on Supporters page of WPDHAC website
Recognition on our Facebook page (3 mentions)
Sponsored ad in our e-newsletter (1 per year)
Recognition on signage at WPDHAC in person events
Recognition on slide deck at WPDHAC virtual events
---
Corporate Ambassador
$5,000/year
Recognition as a supporter in our annual report
Post disability-related events to our Community Calendar (the events must be free to attend)
Submit disability-related headlines and links for the Other Disability News section of our email newsletter
Ability to request disability history speakers from our Speakers Bureau for no cost
Organization logo and link on Home page of WPDHAC website
Organization logo and link on Supporters page of WPDHAC website
Recognition on our Facebook page (5 mentions)
Sponsored ad in our e-newsletter (2 per year)
Recognition on signage at WPDHAC in person events
Recognition on slide deck at WPDHAC virtual events
Invitation to introduce a speaker at a WPDHAC event
---