About The Project
"The Intersection of Race and Disability" project documents and shares the stories of people with disabilities who are people of color. These stories have often been overlooked, not only in the narrative of disability history but also in the contemporary disability rights movement.
In addition to expanding the historic record, these stories provide a starting point for community conversations about the struggles of people of color who have disabilities, and their inclusion in the broader struggle for racial equality, civil rights, and social justice.
Research on these stories explores questions that lie at the intersection of race and disability, such as:
What do we need to know about people of color who live at the intersection of race and disability?
How have people of color led efforts to establish disability rights?
How has race affected access to treatment or services?
How have people faced interpersonal or systemic racism and ableism?
The WPDHAC "Intersection of Race and Disability Project" was launched in 2022 with funding from FISA Foundation. Funds to continue the project throughout 2023 are provided by the Andrew W. Mellon Foundation.
Summary of the Histories
These histories feature individuals and organizations who represent different types of disabilities, past eras of disability services, pivotal disability rights movements, and seminal leadership. You can read the full history of any subject by clicking the button below the summary.
Henry Bell (b. circa 1862-d. c. 1892)
Bell was a deaf child who lived in the Hill District neighborhood of Pittsburgh. His mother was from Arkansas while his father was born in Pennsylvania. Bell became the first student at the Western Pennsylvania School for the Deaf (WPSD), and graduated from the school when he was 18 years old in 1880. Bell became a barber and died in Wellsburg, Ohio. In the 19th century, being both Black and deaf meant being limited in society and in educational opportunities.
According to an article in the Pittsburgh Post-Gazette dated January 19, 1895, Bell arrived at the Sabbath Day School at the Third Presbyterian Church where he was turned away several times by the instructor of the school due to not being able to communicate. Despite continuously being dismissed, Bell returned and was eventually accepted, and invited other deaf children who he befriended to the school. Realizing that Bell and other children like him needed a school to fit their needs, teacher Joel Kerr and other staff embarked on creating the Western Pennsylvania School for the Deaf.
Bell's spirited persistence opened the doors for many other children and laid the foundation for the WPSD. Bell was a deaf child who was the first student of the Western Pennsylvania School for the Deaf. He was born around 1862 to Robert and Martha Caroline Bell. His mother was from Arkansas while his father was born in Pennsylvania. Henry graduated from the Western Pennsylvania School for the Deaf when he was 18 years old in 1880 and lived with his parents at 67 Roberts Street in Pittsburgh's Hill District.
Ms. Andrea Coleman-Betts (b. 1956)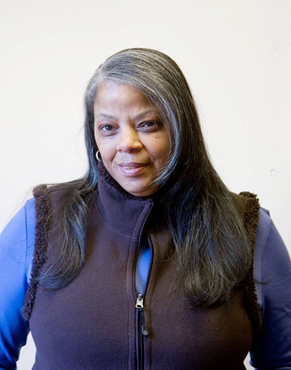 Black women with disabilities have emerged as powerful advocates, breaking barriers and challenging the intersecting forms of discrimination they face. These extraordinary individuals have harnessed their unique experiences to champion the rights and well-being of both the disabled and Black communities. Through their unwavering determination, they have become trailblazers, fostering awareness, and driving transformative change in society. As advocates, they tackle issues such as accessibility, healthcare disparities, representation, and systemic discrimination, with an unyielding commitment to fostering inclusivity and equality for all. Their voices serve as beacons of inspiration, empowering others to embrace their identities and dismantle oppressive structures.
This addition to the Intersection of Race and Disability Project will focus on Pittsburgh's own, Andrea Coleman-Betts. Ms. Coleman (as she prefers to be referred to) is a Black Pittsburgher living with disabilities in the Hazelwood community. She is an educator, poet, and advocate fighting for ADA compliance and hoping to shape and pave the way for a more just and inclusive world for generations to come.
Dr. Diego Chaves-Gnecco (b. 1969)
Healthcare disparity is an area where the intersection of disability and racial inequity becomes plainly evident. Barriers to access present challenges to historically marginalized groups, making it difficult to receive the care and support they need.
One person working to address those barriers in Western Pennsylvania is Dr. Diego Chaves-Gnecco, developmental-behavioral pediatrician and founder of the Salud Para Niños program at UPMC Children's Hospital.
Born December 8, 1969, in Bogotá, Colombia, Dr. Chaves-Gnecco's interest in medicine was cultivated by his family. His mother was a physician and his grandfather was the first endocrinologist in Colombia. Later, after deciding to study pediatrics in medical school, his specialization in developmental and behavioral services was in part influenced by having an uncle with cerebral palsy.
The Council of Three Rivers American Indian Center (COTRAIC)
The Council of Three Rivers American Indian Center (COTRAIC) was established in 1969 by several Native American families living in Pittsburgh. The initial focus was to provide cultural support to "off-reservation" families living in the Pittsburgh Standard Metropolitan Statistical Area and surrounding counties. When COTRAIC incorporated as an official nonprofit organization in 1972,[1] it expanded its mission to address the socio-economic needs of Indigenous people who were often underserved by existing community support programs. Accessing culturally relevant services was a struggle at that time.
By the early to mid-1980s COTRAIC recognized that many non-Native Americans in the local population were similarly disadvantaged and shared some of the same challenges as the Native American community. As a result, COTRAIC expanded its mission. Today, the organization offers services and programs to Native and non-Native children and adults, while maintaining a focus on Native culture.
COTRAIC has many programs, ranging from employment training to elder services, as well as a food pantry. Two key efforts highlight ongoing work that specifically supports the disability community: Inclusive Head Start, Early Head Start and Pre-K classrooms, and mental health-focused programming.
David Hale (1979-2020)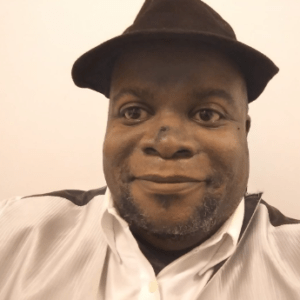 This addition to the Intersection of Race and Disability Project will focus on a true bright light and deeply missed community member, David Hale (1979-2020). David was a Black Pittsburgh native living with the congenital condition, spina bifida. Before succumbing to cancer at age 40, David was a musician, poet, motivational speaker, youth minister, and beloved brother and friend. This article will explore the remarkable journey of David's determination, friendship, artistry, and faith that kept him motivated throughout his life.
As Tonya Hale, David's sister, remembers it, the doctors told their mother that David's life expectancy would only be five years. Receptive of the doctor's news, but being deeply planted in her faith, their mother would constantly remind David throughout his life that only God determines our time on Earth, and with that motivation, David set out to celebrate and live life to his fullest potential.
Milton ("Skip") Henderson (1961-2019)
Henderson became paralyzed because of a car accident. He became a renowned local and statewide disability rights advocate. He was a board member and later an employee of Three Rivers Center for Independent Living. He served on the statewide Independent Living Council and the City of Pittsburgh-Allegheny County Task Force on Disabilities until his death in 2019. Writing on his online obituary page in 2019, Amy Selders wrote: "Milton fought for the rights of all people with disabilities as if his own life depended on it."
Henderson was an African American man living with a physical disability; his courage of conviction and responsibility to fighting for the rights of people with disabilities has not been forgotten and continues to inspire many.
Marilyn McKinney (1947-2004)
McKinney worked for the Pittsburgh Public Schools for 30 years, most notably as program officer for the Program for Students with Exceptionalities. She served in the Pittsburgh Branch of the NAACP as the Statewide Assistant Secretary and the Second Secretary. She created a group called African Americans Make-A-Wish, to provide opportunities to children under the age of eighteen with a life-threatening illness. Other community work included the Kingsley Association, the charitable group Freedom Unlimited, and the Greater Pittsburgh Alliance of Black School Educators.
The Pittsburgh Local Task Force on the Right to Education named an award in McKinney's honor. The award recognizes Pittsburgh Public Schools employees who demonstrate "outstanding commitment and service" to students with disabilities. McKinney was an African American woman who was not only a champion in her community but also for children of color in the disability community.
Maurika ("Rika") Moore (b. 2001)
Moore is a young adult with epilepsy who graduated from Washington High School (Washington County) in 2021. Her family, including her mother Cicely Moore and her father Ron Moore (Washington High School basketball coach), started a fundraiser called Rika's Hearts to raise money for the annual Pittsburgh Fun Run/Walk for Epilepsy and to help with Maurika's medical care. The fundraiser has expanded its outreach to the surrounding community by contributing to various community causes. Rika's Hearts continues to raise awareness about the costs associated with treatment and to connect communities with much needed resources. Moore is part of the next generation of BIPOC and disabled advocates making profound change across communities.
Florence Reed (b. 1944)
Reed is the founder of Working Women with Disabilities. She served on the Pennsylvania Developmental Disabilities Council. Her tenure included serving as vice-chair of the Council and chair of the Advocacy Committee. Reed is a member of Alpha Kappa Alpha Sorority, Inc., and a graduate of the University of Pittsburgh. Reed's advocacy began before she became disabled when she worked as a speech therapist for Pittsburgh Public Schools. While having a disability may have changed her life, it also strengthened her resolve.
In her interview with Alonna Carter-Donaldson, Reed said "Disability is not a death sentence. In fact, it's probably one of the best things that ever happened to me, because it has taught me how to accept people… all people, no matter who they are." While being both African American and part of the disability community can come with its own set of challenges, Reed inspires women of all backgrounds to be confident and persevere beyond any boundaries.
---
Our Project Scholars
Jessica C. Neal is the current Project Scholar as of May 2023, working on the remaining stories to be compiled in 2023. (Read Jessica's bio here.)
Alonna Carter-Donaldson was the Project Scholar for the first five stories (Bell, McKinney, Henderson, Moore, Reed) in the "Intersection of Race and Disability" project. (Read Alonna's bio here.)
Heather Cowie was the Project Scholar for the Dr. Chaves-Gnecco story.
Heather Glasby was the Project Scholar for the COTRAIC story.
Our Community Advisory Committee
A community advisory committee initially guided this storytelling project. Members were:
Dr. Diego Chaves-Gnecco, Developmental-Behavioral Pediatrician; Director, Salud Para Niños ("Health for the Children") bi-lingual clinic
DaNia Childress, Associate Curator, African American History, Heinz History Center
Melva Fair, Executive Director, CLASS Community
Dustin Gibson, Access, Disability and Language Justice Coordinator, PeoplesHub; Member, Policing in Allegheny County Committee
Chaz Kellem, Program Manager, Enterprise Equitable Health Institute; Member, Pittsburgh Human Relations Commission; President, Achieva Board of Directors
India Scott, Self-advocate
Michelle Walker, Founder of Lend An Ear Consulting
Project Presentations
Presentations about the project include:
In The Media
Our Funders
Funding for the effort comes from the "Race and Disability" initiative of the FISA Foundation, and a Community-based Archive grant from the Andrew W. Mellon Foundation.