By Alonna Carter-Donaldson, Project Scholar
Marilyn McKinney was born Marilyn Major on December 9, 1947, to Doctor Cero Major and Annis V. Major in Detroit, Michigan.
Marilyn excelled as a student at Commerce High School. In 1964, she became one of seventy-one students across Michigan to receive a full scholarship to attend the University of Michigan, where she majored in education. She eventually transferred to Wayne State University and finished her degree. After graduating, she relocated to Pittsburgh, earning a Master of Education and Supervisory Certification in Special Education from the University of Pittsburgh. Marilyn married Ronald McKinney, and the couple had three children: Ebony, Randall, and Brian. The McKinneys raised their family in the Stanton Heights neighborhood of Pittsburgh.
Starting her career in the Pittsburgh Public Schools as a teacher at Martin Luther King, Jr. Elementary on the North Side, she taught special education classes. McKinney advocated for her students, emphasizing self-empowerment, and recognizing their agency in their learning when the idea of integrated classrooms and learning facilities was fairly new. She shared her approach to teaching and interacting with students with disabilities in the September 8, 1973, edition of the New Pittsburgh Courier:
"We don't make them feel like they are different, but act towards them the same as anyone else," McKinney said. "The students only want to be helped and not pitied."
In 1975, Marilyn McKinney took on a more significant role in ensuring that students with disabilities and special needs received the support they needed in education. Her friend and colleague Ellen Estomin, the former Executive Director for the Pittsburgh Public Schools Program for Students with Exceptionalities, recalled meeting McKinney in those early years.
"I knew of her as a teacher in learning disabilities. But in 1975, Dr. William Penn asked me to direct our process of implementing Public Law 94-142, which is now IDEA. And I hired Marilyn to be part of that initiative."
Public Law 94-142, or The Education for All Handicapped Children Act, was signed into law by President Gerald Ford on November 29, 1975. This act guaranteed that all children with disabilities would have free and appropriate access to public education across the country. Estomin described how she and McKinney, along with their colleague Jack Cherry, developed the standards of procedure. The team tirelessly worked to ensure that the Pittsburgh Public School District followed the new legislation.
"We developed a notebook for every school," Estomin said. "And then it was our charge to in-service the entire school district and make sure that everybody understood Public Law 94-142 and how it affected the schools. So that's when Marilyn and I became not just colleagues but friends. And we were pretty inseparable from then on."
McKinney understood the challenges children with special needs faced, not just as an educator but also as a mother. The eldest of her three children, Ebony, was diagnosed with lupus at an early age. Her daughter's disability inspired her to get involved with the Make-A-Wish Foundation. As a result, Ebony's wish to see her favorite singer, Whitney Houston, in concert in Los Angeles was granted.
In 1994, McKinney was elected to the board of directors of the Make-A-Wish Foundation of Western Pennsylvania and nominated as an Outstanding Citizen by the Jefferson Medal award committee. In 1996, McKinney founded African Americans for Make-A-Wish to locate children with life-threatening illnesses who might qualify for Make-A-Wish.
Her son Brian McKinney remembered the significance of his mother's desire to start the group. "I think that had such a fundamental impact on Ebony's outlook, and my mom saw that," Brian said. "She wanted that more for Black kids because a lot of times some of those organizations, especially back then, were more exclusionary for Black folks versus inclusionary."
Marilyn McKinney also had a passion for social justice. Brian remembers that his mother began to get deeply involved with social justice initiatives after the 1995 death of Jonny Gammage in police custody. She wanted to be even more involved in her community, so she joined the Pittsburgh NAACP Chapter. In 1998, she was elected secretary under President Tim Stevens.
"Marilyn's focus outside of school, and it was connected," said Ellen Estomin, "was really with the NAACP. She was very active in the NAACP. And why do I say it's connected? Because part of that was making sure that, in the Pittsburgh Public Schools case, Black kids got the same education as White kids. The NAACP focused on education and ensuring that all kids were educated the same and that they could achieve and have lofty goals."
Marilyn's passion for justice and equality in education would stick with her three children, especially Brian. After graduating from Carnegie Mellon University, he went to Wall Street to work in finance. While there, Brian began mentoring high school students. After relocating to Denver, Colorado, he felt he wanted to make a change and advocate for marginalized children. So, he decided that, just like his mom, he would go into education and began working at Denver Public Schools.
"I left finance and joined a program where I worked for two years," Brian said. "I wanted to have an impact like she had. I wanted to advocate for kids who needed people to advocate for them. Because of the influence she still has on me, I spent my time advocating for Black kids and students with special needs to have access to everything other students had access to."
Brian would later return to his financial career, but he continues to serve on his local district's accountability board. "I don't know how you do that for thirty years," he laughed, referencing his mom's extensive career in education. "From my experience, you may have more power outside of the district than inside of the district as a community advocate." Still, Brian credits the lessons he learned from his mother and his experience in the district with guiding him in his decisions as he continues his work.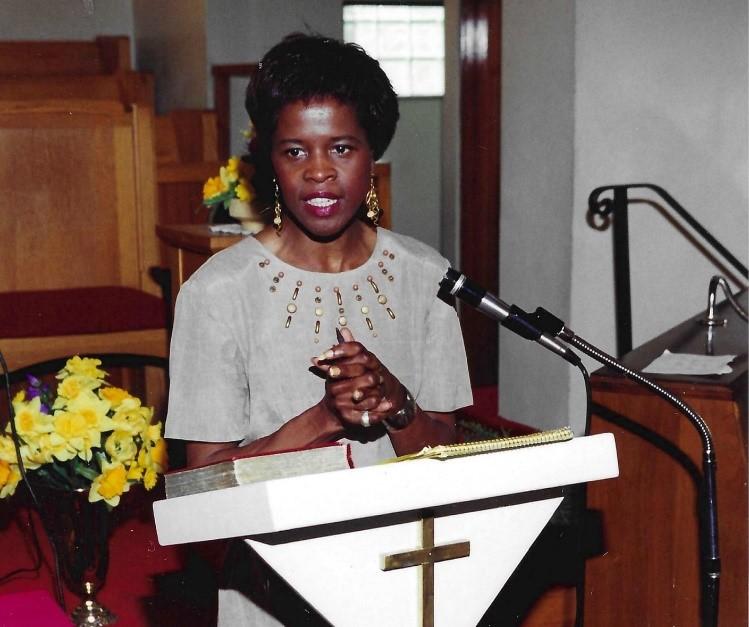 Marilyn McKinney's commitment to her community, education, and knowledge-sharing with others was a testament to her character. McKinney served as a Compliance Monitor for the Pennsylvania Department of Education for 18 years and was President of the Greater Pittsburgh Alliance of Black Educators. In addition to working for Pittsburgh Public Schools and with the NAACP, she also taught at Chatham University and Point Park University as an adjunct professor in Special Education. Additionally, McKinney served on the Board of Managers at the Kingsley Association in East Liberty and on the board at St. Paul's Baptist Church.
While Marilyn McKinney was a dedicated and determined professional, she also strived for balance. Her friend Ellen Estomin recalls that McKinney loved music, dancing, and spending time with her family. One of her favorite things was watching her sons, Brian and Randall, play basketball.
Brian recalls his mom being his biggest cheerleader.
"I used to play basketball at Mellon Park, and she would come to every one of my games. There would be no other parents there, but she would be at every single game," He recalls. "And to me, that was so special to see her. I wish I just had more time."
Marilyn McKinney passed away on July 10, 2004, two weeks after her retirement from Pittsburgh Public Schools as the Program Officer for the Program for Students with Exceptionalities. In the weeks before her death, she received several proclamations from the Allegheny County Council and the Pittsburgh City Council for her thirty-one-year commitment to ensuring education equality for all students. Her passing deeply impacted her family, colleagues, and community. Yet, she is remembered through the Champion Award established in her name by the Pittsburgh Local Task Force on the Right to Education. Per the Pittsburgh LTF Facebook Page, the award is given annually to "recognize outstanding Pittsburgh Public Schools teachers, paraprofessionals, personal care assistants, therapists, school staff, principals, administrators, and fellow students who, through their work, support or friendship, ensure that children with disabilities are provided equal opportunity and access to quality education."
McKinney's son, Brian, has also reflected on his mother's legacy.
"To me, it is an idea; you never stop fighting for the community," he said. "In those college years, when I would come home from school, and she couldn't get out of bed, and she was just exhausted, she would still be out during Thanksgiving handing out turkeys with the NAACP. She knew that there was so much more work to do. If she was going to go out, she was going to go out doing something that she loved. So, she was going to go out helping the community because that's what she did for 30 years of her career."
Brian continues to carry his mothers fighting spirit with him and credits her with his strength.
"When I think about when I'm tired, and it feels insurmountable, I think about her."