By Alonna Carter-Donaldson, Project Scholar
"Life's most persistent question is, what are you doing for others?"- Martin Luther King Jr.
Milton Henderson, Sr. was born on September 16, 1961. A resident of the Hill District neighborhood in Pittsburgh, Henderson attended Brashear High School, and later attended Community College of Allegheny County.
Coming of age during Pittsburgh's school integration attempts in the 1970's, Henderson's early experiences as a Black youth shaped his perspectives on the challenges that he would later face as a member of another underrepresented group – the Pittsburgh disability community.
In the November 29, 1976, issue of the Pittsburgh Press, Brashear was described as the "city's first attempt to establish a racially integrated school for youngsters from widely separated parts of the city." The school had been characterized as plagued by racial tension which sometimes included fights between Black and White students who came from the Hill District, Hazelwood, and parts of the South Hills.
Henderson understood even as a teen that changes that were intended to create a lasting impact on society were also simply part of one's journey in life. "Some people are hung up about Black and White, but to me it doesn't make any difference. You got to go to school somewhere," Henderson said when interviewed by the Pittsburgh Press as a ninth grader at a Brashear High School.
Henderson would not let society define life's parameters for him.
Paralyzed with a spinal injury as the result of a car accident in 1995, he took this attitude into his fight as a disability rights advocate, where the majority of his work was spent in predominantly White spaces. He became a member of the City of Pittsburgh-Allegheny County Task Force on Disabilities in 2004 and served as chair of the Pennsylvania Statewide Council for Independent Living. He also worked for the Three Rivers Center for Independent Living as an Independent Living Specialist, was a board member for Disability Rights Pennsylvania, and was a lifetime member of the Keystone Chapter of the Paralyzed Veterans of America.
Known as "Skip" or "Milt" by friends and colleagues, he was known for the courage of his convictions to be speak out for those who were living at the intersection of race and disability – particularly sharing his experiences as a Black man living with a disability. Furthermore, he was a mentor for younger advocates like Dustin Gibson, who is the Director of Access, Disability, and Language Justice at PeoplesHub.
"I haven't met too many people that have had the level of fight like him," Gibson said as he reflected on his relationship with Henderson. "Milt was a literal embodiment of what it means to be in the world living with a disability…He was an example of what it means to literally still live a life of quality, even though you have a disability."
Henderson cared deeply about accessibility and visibility, and in particular, addressed issues of physical barriers that prevented those with physical disabilities from moving about freely. In meetings of the City-County Task Force on Disabilities, he spoke passionately about the need for businesses and new developers to consider those who were physically disabled in their plans. This included having adequate ramps for those using wheelchairs and keeping sidewalks clear of tables and chairs which limited accessibility and freedom of movement. Henderson's passion came from his own experiences using a wheelchair in his daily life as well as driving an accessible van that had a ramp which deployed on sidewalks.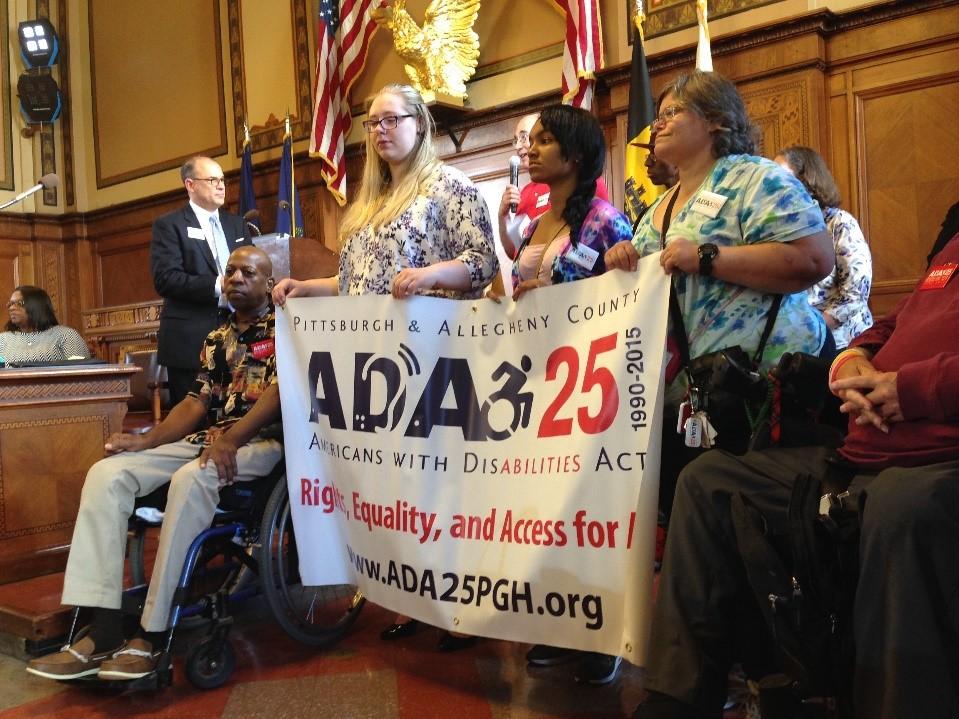 A true advocate, Henderson had a take-charge personality, challenging others to advocate for themselves, their communities, and the things they cared about the most. Dustin Gibson recalled that in 2014, when protests began in St. Louis, Missouri, following the police shooting of Michael Brown, he turned to Henderson to make sense of the events.
"Milt, to me, was an elder at that time…that I could talk to about what was happening, why it was happening, vent to, and get thoughts from," he said. "I just wanted to vent and say, 'These are all the problems in the world.'" Henderson's response? "Well, why don't you do something about it?"
Henderson was known for his advocacy, but also known for his sense of humor, which he used to ease tension and help friends and colleagues cope with difficult situations. "If you talk to anybody about Milt, they will tell you that he had a thousand jokes for every situation. He had a strategic placement of humor that was in support of so many things. For me, it was in support of coming to this realization of this is what the world is. And then at times [he was] supporting me in figuring it out, when I actually didn't know what to do."
Milton Henderson, Sr. passed away unexpectedly on March 5, 2019, at the age of 57, and his death was a shock to all who knew him.
When asked what Henderson's legacy is, Dustin Gibson explained, "There's this pedestal that people are placed upon…they become the people that everybody wants to learn from, where everybody takes clues, and Milt was not like that."
Gibson went on to explain that Henderson did not care about notoriety or being the go-to person – he simply wanted to help people live their best lives.
"I think Milt's role was, 'I'm concerned about the people that are individuals, and they have to go apply for a job,'" Gibson said. "They have to go to downtown for baseball game. They have to interact with the healthcare system. They have to go to a restaurant. They have to find a place to go to the bathroom. Those are the types of things Milt was keenly aware of, and he was interested in figuring out how can people do those things for themselves – which is the heart of independent living."
Further reflecting on the life of his friend, mentor, and co-worker, Gibson shared the depth in which Henderson's life and work continues to touch others, even though he has passed on.
"Milt is somebody that is continuing that work of guiding people…The same type of energy that he gave as a person on the earth, I can imagine he's still doing that as an ancestor."