By: Jessica C. Neal, Project Scholar
Triumph Over Adversity: A Journey of Recovery from Substance Abuse and Mental Illness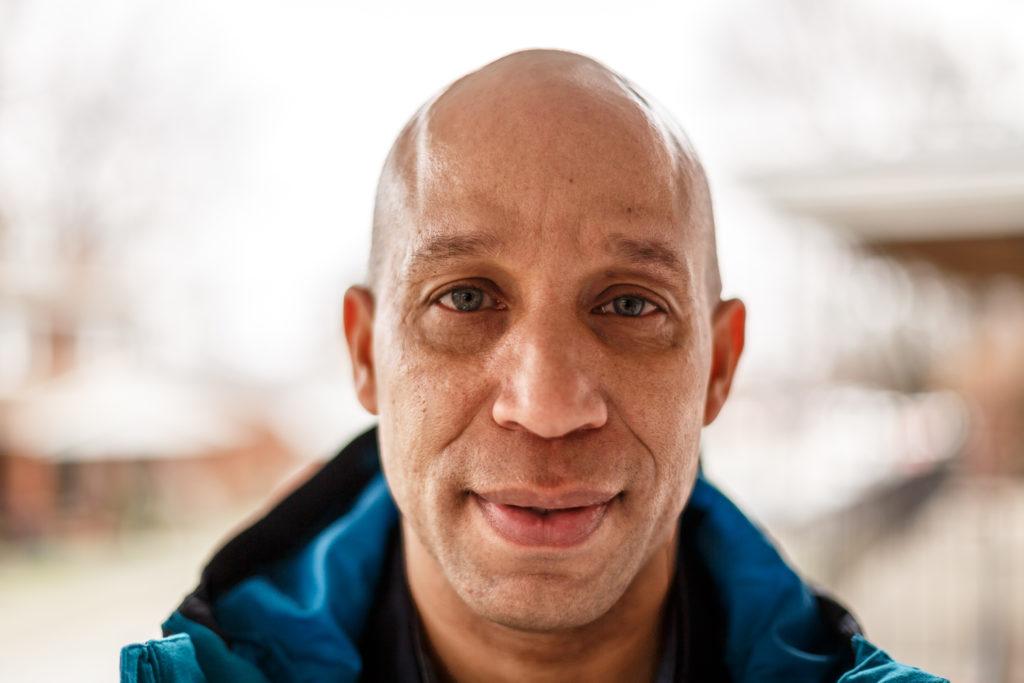 Don't quit. Paul Lee says it may be simplistic, but when it comes to the multi-front battles of facing the realities of being a Black man in America, struggling with mental illness, and dealing with substance abuse issues, this is the advice he turns to again and again. This mantra and life practice has become essential to Paul's perseverance and survival.
Faced with the daunting challenge of addiction and mental illness, it was Paul's spirituality, experience of loss, and self-discovery that enabled him to triumph. The story of overcoming substance abuse while battling mental illness is a powerful testament to the resilience of the human spirit. Together, Paul and I explored how the competing influences of his life made him the person he is today, and why because of that, he believes in hope and perseverance, no matter who you are.
Paul Lee was born January 10, 1966 to Marjorie Warden Lee and Glen Joseph Lee in Pittsburgh, Pennsylvania. Paul grew up in the Pittsburgh neighborhood of Beltzhoover, a predominantly African American neighborhood in the 18th ward that borders Mount Washington, Allentown, Knoxville, and Bon Air. On Beltzhoover, Paul shares:
"Beltzhoover was one of the exclusive African American areas that was residential. You know, there was no projects. However, looking back, you know, African American neighborhoods could not escape the systemic racism, the violence that incurred with neighboring African American communities. We did not get to escape that. Just personally, it's very difficult for African American neighborhoods to escape intersectional violence with their neighboring African American communities."
Despite witnessing and experiencing inter-communal conflict, Paul was able to reflect fondly on his upbringing in Beltzhoover. "In that era, we had a real childhood […] It was our mission growing up, to really just have fun. And, it was more communal. The community was closer. And, although we had a beautiful childhood in terms of growing up as a child, there was this invisible understanding that look, you're Black. This is about you gotta survive, so you gotta be tough. You gotta fight. You gotta find your way. And Mom is not going to help. Mom cannot help you be a man. Mom cannot raise you. So you gotta figure this out on your own. "
Growing up in a single family home of twelve, Paul developed a close knit relationship with his younger brother, Andy, and a protective and guardian-esque relationship with his twin brother, Peter. However, it would be Paul and Andy's relationship that would save Paul over and over again throughout different phases of his life. Their meager home life, characterized by limited resources and little interaction with their mother due to her demanding work schedule, had a significant impact on Paul and his siblings, who were all suffering from various degrees of mental illness.
According to Paul, he and his siblings were predisposed to mental health challenges. Paul believes they genetically inherited their mental health challenges from their father, who was schizophrenic. Genetic predispositions coupled with the stressors of systemic racism and socio-economic hardships can amplify the likelihood of mental health disorders.
Paul recalls an incident in a neighborhood park where his twin brother Peter was having a mental health episode in which he began to undress in public. Whether it was the bond they shared as siblings, or Paul's calming yet authoritative presence, he was able to intervene and call Peter back to the present moment. The burden of navigating mental health challenges paired with the lack of emotional stability, parental neglect, and economic hardship drove Paul and his siblings to find refuge outside of the home.
"We sought out unconsciously the love of the community that allowed us to not focus so much on…poverty. I don't know if I would label my family dysfunctional, but according to systemic concepts, they may because there was an absence of my father. And my mother could not raise, I mean, at a certain age she could no longer tell us what to do. And that was the unfortunate part whereas the streets became our parent, which has been this story of millions of young African American men and females too. I would beg to say that males even more so. That has become an unfortunate, but yet vital influence in our development."
Street life is a microenvironment of socialization where youths set their own rules and learn the ways of the world.[1] Street life often is a pathway into risky behavior such as gang involvement, violence, and the potential for substance abuse. Paul shares that despite his keenness for school and learning, by the age of 14 he had begun to experiment with substance abuse.
"I wanted to go to school. I did go to school, and I wanted to do good, but I had got caught up in the streets: weed, drinking, cocaine. I was smoking, snorting cocaine at 14, 15 years old, you know. When you don't have examples, and you don't have a systemic support system to foster structure and morals and values apart from the streets, it's difficult."
In the face of home and street life challenges, Paul remained steadfast in his interest in education. Though he had some initial challenges in high school, after placement at George Junior, a Western Pennsylvania center that offers a broad range of trauma informed residential programs and services for at-risk male youth, Paul was able to get back on track academically and eventually graduated from Pittsburgh's South Hills High School.
After graduation, Paul was admitted into the New York Institute of Technology in New York City, and became a first generation college student. However, it was New York in the 1980s, and the crack epidemic that claimed and impacted many Black and brown lives throughout the United States was at its peak. Unfortunately, both Paul and his younger brother Andy got introduced to crack, first as sellers and subsequently as users. Struggling with drug use, experiencing periods of sobriety and relapsing, and ultimately working toward recovery would be the theme of Paul and Andy's lives over the next few decades.
As the conversation transitioned into questions around substance abuse and his road to recovery, Paul understandably became a bit somber. "Black man gotta survive the streets. That's our biggest obstacle as an African American male. That's our biggest obstacle. It's surviving the streets. If you survive the streets, you most likely got a chance to have a pretty decent life."
Rock bottom often serves as a catalyst for change, and for Paul, it came in the form of deteriorating relationships with his children and a series of losses of siblings and friends from substance abuse and mental illness conditions. These harrowing experiences forced Paul to confront the reality of his addiction and the dire state of his mental health. With Andy's help, Paul realized that he had hit a crossroads and needed help to survive.
Unfortunately, in 1998 Paul was arrested, tried, and convicted of a crime, of which he maintains his innocence. However, it was incarceration that spurred a turning point in his road to remaining clean and to begin recovery. After his two- year stint in prison, Paul was released and began to slowly rebuild his life. When asked about the intersection between his mental health and substance use, Paul states:
"Actually, not until after I got clean was I able to see a more clearer picture of how that intersected and took place. But in real time, you know, after I got out of prison for two years for something I didn't do, I was going to outpatient at 3501 Forbes Avenue. UPMC. And I loved it. I loved being around people who I could relate to. I also started going to NA (Narcotics Anonymous) meetings and I loved that too. I didn't love that as much as I loved that mental health outpatient, but I think that that little boy that wanted to do good, that intelligent, spiritual person came forth because I wasn't using drugs."
With the support of his brother Andy, his NA group and sponsor, treatment at the University of Pittsburgh Medical Center for Psychiatric and Chemical Dependency Services, and his faith, Paul was beginning anew. He was now on his journey towards recovery. Simultaneously, he started therapy to address his underlying mental health issues, which had been fueling his addiction.
Paul's case was complex; he was dealing with both substance abuse and mental illness, a condition known as dual diagnosis. Medication, therapy, and a strong support system were crucial components in his battle against mental illness, while sponsor support at NA and structured programming at UPMC helped him break free from addiction. When asked to share more about his experience as a Black man living with this dual diagnosis, and as a professional in behavior health and crisis recovery, Paul shares:
"There's a lot of misconception about who I am, my mental health, and how I present myself. So, because I went on to school, went to CCAC (Community College of Allegheny County) for three years, Carlow [University] for three years, and Pitt for two years. School, [it] actually did help also with my mental health 'cause it gave me some information of how it operates. We're trained to try to, you know, deal with the mental health and different modalities and techniques, so that helped me help myself. But I would still knew that I was different. That I didn't possess the capacity, because of the thoughts and feelings that was like, physiologically and psychologically, that was going through me. How the reflective component that pops up all the time in my mind and having to combat that. So yeah, it's difficult, but I live with it. And as long as I don't add to it with drugs, I seem to manage it."
Recovery is seldom linear. In the early aughts, Paul's sister died from a drug overdose. The loss of yet another sibling was devastating for Paul, especially after losing his twin brother, Peter, which triggered a relapse for Paul. However, at the point of losing his sister, he had a better grasp of his triggers, and how to navigate them independent of substance use. Paul's strength and will to remain clean reinforced his commitment to a life free from addiction, despite this difficult time.
Paul exists in this world as a father, academic, Christian, upstanding citizen, and perhaps one day, a pastor, which Paul admits are more so visions of folks in his church and NA communities. However, the challenges of navigating mental illness remain present in Paul's life–challenges, he says, that have to be addressed.
He further adds: "Some people don't wanna do that and I think that's the conundrum that we have is that it can be so draining to address mental health. I gotta address my mental health.' 'I gotta go to a mental health program.' 'I gotta go to Narcotics Anonymous.' 'I gotta go to AA'. 'I gotta go to church.' 'I gotta address my spirituality.' 'I gotta go get an education.' A lot of people don't wanna do that and I understand that. So, the best advice that I give them is the most simplest advice in the world. I tell them all: Don't quit."
Finally, when asked what self-care looks like for Paul at 57, he states: "Having a routine is paramount for me. That's what has gotten me through. I have learned that routines aren't as bad as people think they are. That structure is not as bad as people think it is. I just had to learn how to grow and accept that these structures are a way of life for me. And as I did that, it became more of a self-care situation for me."
The stories of Paul's life teach us that it's not about leading a perfect life made of all the right decisions. True triumph is being willing to show up for yourself, live in the truth of your reality, and take accountability in taking care of your own needs. Paul assures us and demonstrates that this is work that never stops or turns off, the same way Paul cannot turn off his mental illness. Even when it's gotten hard, whether navigating parenthood, the systemic structures of Social Security, or maintaining his personal health and wellness, he hasn't quit. For him, all of his experiences have been lessons that have helped him to learn how to manage his dual diagnosis.
Paul helps us to understand that everyone's path in managing their mental health is their own, but the commonality is finding one's own personal way to make it through, in ways that are survival and in ways that are joyful. In Paul's case, he shows us that doing the work on every front, can bring immense care and comfort to others, and to oneself. We're all a work in progress, and as long as we don't quit, the story isn't over yet.
More about Paul Lee
References
[1] Encyclopedia of Chicago. Street Life. Accessed on September 28, 2023. http://www.encyclopedia.chicagohistory.org/pages/1203.html