By Alonna Carter-Donaldson, Project Scholar
In the United States, 578,000 African Americans live with epilepsy. In a society where stigma surrounds African Americans with disabilities, receiving proper care for the illness and being able to afford that care can be daunting. Having the support to ensure the quality of life for a child can also be challenging. Ron and Cicely Moore have been there; their daughter Maurika, born in 2001, was diagnosed with epilepsy at age two.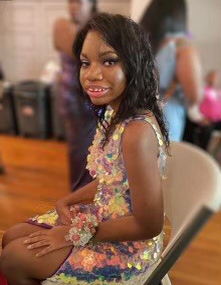 In the beginning, Cicely was optimistic about their daughter's diagnosis.
"She would only have a seizure once every blue moon. It wasn't very often at all. So, it wasn't too big of a situation for us at first. By the time she got about five or six, they were starting to pick up more and debilitate her a little bit more."
In addition to epilepsy, Maurika was diagnosed with a developmental delay and partial hearing loss, and has paralysis on the right side of her body due to necessary surgeries. In addition to Maurika, the Moores have a son Rikwon and a daughter Aujuwa. Balancing family life and trying to work was not always easy. Ron worked as a coach at Washington High School, and Cicely worked full time at Superior Valve Company for seventeen years. Ron and Cicely leaned on family members like Cicely's mother and sister for additional help. Outside resources were scarce. As a parent who experienced the life-changing event of having a child with a disability, Cicely admits it was hard to reach out elsewhere on her own.
"I wasn't leaning on any support system at that time. I was being what they told you being the strong Black woman is. But I learned that that's not really what it is. At that time, I was trying to do it myself and keep it to myself."
Yet where the Moore's lacked resources, they found that the Washington School District would assist. Maurika benefited from Early Intervention in her primary years and several years of music therapy, which Cicely enrolled her in, outside of school.
Maurika endured many surgeries to help lessen the number of seizures and address other health concerns. In 2013, at the age of twelve, she underwent surgery in both sides of her brain to reduce her seizures. Initially, the effects of the surgery were uncertain. The physicians did not know if she would lose her mobility or how much of her verbal communication would remain. Amid the uncertainty, something miraculous happened: the Washington, PA, community rallied around the Moore family. It gave them the support they had not always had from the outside.
"Everybody was pouring in and sending us stuff and helping us, to support us during that time. They had balloon releases for us, bake sales, sending money, donating, and collecting. And I just felt like I needed to do something to give back after that," says Cicely Moore. The fundraisers helped the family financially with food, lodging expenses during Maurika's hospital stay, parking and gas.
After Maurika left the hospital, Cicely and her husband, Ron, created Rika's Hearts to assist in raising money for Maurika's epilepsy treatment and for others.
The first event was a pig roast to help raise money for Maurika to have a support dog for seizures. Maurika became the first person in the Washington School District to use one. In addition to raising money for Maurika, Rika's Hearts has also raised money for a child with sickle cell disease, which affects 1 in 13 Black/African American births, according to the CDC. Rika's Hearts also sponsors a youth softball team, participates in the Pittsburgh Epilepsy Fun Run/Walk every year, and invites children and adults from their community to join.
When COVID struck, the family decided to organize their own walk and invited the Washington, PA, community to walk with them. Rika's Heart's most recent Annual/Walk Run Event was on July 9, 2022, at Washington Park in Washington, PA.
"[Maurika's] birthday is July 11. So, we always keep it close to her birthday. She knows she's being celebrated," laughs Cicely. Maurika recently turned 21, and her parents say she has not been hospitalized for a seizure in nearly four years.
"That's big for us," Cicely acknowledges.
Rika's Hearts wants to expand how they give back to their community. One goal is establishing a scholarship fund to fund kids from Washington who wish to attend college. The Moore family hopes that some of the students who benefit from the scholarship will pursue a career in the medical field.
"I'd love to see more kids get grants to go to school," Ron said, "Especially if they're going to get into neurosurgery or try to be a doctor."
Ron and Cicely also believe social and racial justice organizations should continue to be inclusive and keep learning about how disability impacts people in their communities. The Moore's see Rika's Hearts as eventually being a vehicle to bring awareness.
"It might take a group like Rika's Hearts to go to [them] and say this is how you should interact with people with epilepsy," says Ron.
Finally, Cicely and Ron have advice for parents who have children with disabilities and may be having a tough time finding their balance.
Ron's advice?
"Self-educate," he says.
Cicely adds: "Breathe it, live it, process it, and take the help."
To learn more about Rika's Hearts and get involved, reach out to Cicely Moore at cezmoore@gmail.com.